Geo-Matrix Ranking Reports
Geo-Matrix Ranking Reports
Visualize your rankings geographically at strategic points on a map
Easily understand how searcher's distance impacts your rankings
View ranking changes over time with our animated map view ranking GIF generator
Impress your clients with stunning, visual map view reports
Rankings with Pin-Point Accuracy
Places Scout tracks rankings for specific points on a map, giving you detailed insight on exactly how well your business ranks for specific locations.
With visual plotting of ranking data on a map, you can easily see your rankings across a geographic area.
Animated GIF Rankings Over Time
See how your rankings change over time with Places Scout's Animated GIF Ranking generator.
Create eye-catching animations to show improvements to your clients.
Customizable settings allow you to configure date ranges, delays between frames, keyword display, and more.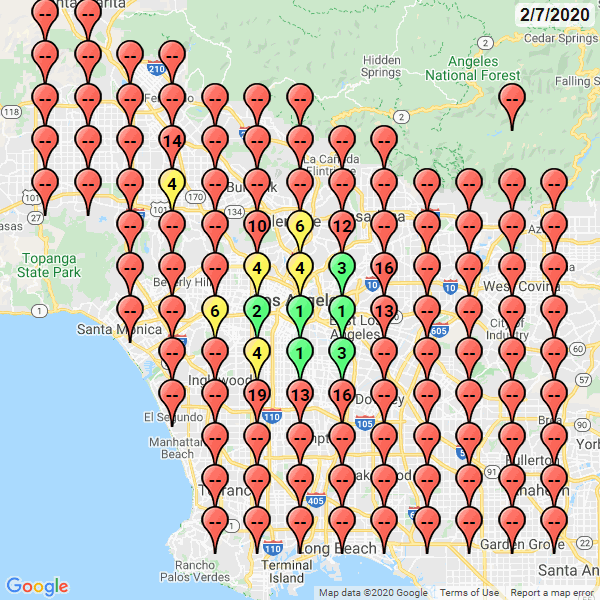 Geo-Matrix Keyword Builder
We make it easy to build and configure the map pin locations to track for your report.
Specify a center point, radius, and matrix size, and Places Scout will give you a preview of the locations to track on a map.
Generate any type of matrix in any location with ease.
Customizable Pin Locations
Pin locations can be customized to track exact points on a map
You can disable tracking certain pins for undesired locations, such as over bodies of water.
Track the locations you want with full customization and flexibility of pin locations.
Beautiful Client Reporting
Send your clients reports via email with a PDF attached that contains map view images of all their rankings.
Impress your clients with stunning, eye-catching reports that show rather than tell.
We don't do hard sales. We'd rather just present you with the facts. So, let's chat… Simply fill out the form with your questions and someone will get back to you shortly.
If you prefer to speak with someone over the phone, you can call us directly at (714) 604-1604. We're here to help from 8AM-5PM PST.